Sarah Lucretia Holbrook Tolman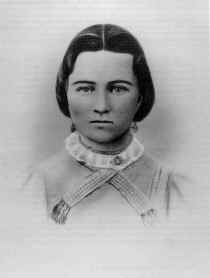 1832 - 1869
Sarah Lucretia Holbrook Tolman was born at North Weathersfield, Genesee County, New York, January 21, 1832. She was the daughter of Joseph and Nancy Lampson Holbrook. She was their first child and named in honor of her two grandmothers.
She shared in the suffering of the Saints both in Missouri and Illinois. In 1834 she went with her family to Missouri in Zion's Camp. At the age of ten years her mother died, leaving four children which she helped her Aunt Phebe Harding care for. On January 1, 1948 her father married Hannah Flint, who was a school teacher. She was a mild, sweet woman. She never had any children of her own, but was an ideal stepmother.
At the age of 14, Sarah Lucretia married Judson Tolman in January 1864 at Nauvoo, Illinois. Two years later, in May 1846, she and her husband left with her father and company towards the West. They travelled in Brigham Young's company with Anson Call, a Captain, arriving in Salt Lake City about the 20th day of September 1848. The families lived together until October 1849 doing their work together as one man.
While the couple was at Council Bluff their first child, Sarah M., was born March 28, 1847 but she only lived until April 12th. During the short stay at the Bluffs, about 23 of the brothers and sisters were buried at the burial grounds. In spite of all the sorrow and trials, the group felt joyful.
Joseph Holbrook gave Sarah Lucretia and her husband, Judson, a new two-horse wagon and harnesses, two yoke of oxen, two cows and bread stuff enough for one very good start in the valley.
In the fall of 1849 Sarah Lucretia and her husband, along with the families of Josiah Call and Cyrus Tolman, moved to Tooele, a new community west of the Salt Lake Valley. On the 25th of February 1850 the first white child was born there, a son to this couple. He was named Judson A. Tolman and in later years became the bishop of the Chesterfield Ward in Idaho.
About February 1850 the first ecclesiastical organization was formed by Apostle Ezra T. Benson who visited the Tooele Valley. He appointed John Rowberry presiding Elder with a counselor. Immediately meetings were held in private homes. The first meeting was held in grandmother's home.
The following was written of the first Christmas morning in Tooele:
"When the children of Tooele awoke on Christmas morning in 1849 not a doll or a toy was in all the land; not even a stick of candy or an apple was found in all the cabins, but the children and their parents were still happy for all they had, they were glad they still had a little to eat. The prospects before them in their new home was beginning to grow brighter every day. If there were no dolls or toys for the children, the fathers and mothers could not forget Christmas and before the day was over, they had a real jolly good time.

"In the evening they all met at the cabin of John Rowberry, that was the house they held all their meetings in. There they had a good old-fashioned dance to wind up the day with. It was the merriest crowd that ever met in a Christmas gathering. They were all young men and women and as full of fun and frolic as was possible for young married people to be. Some of them were good dancers and a few good singers, and they could get up an interesting party whenever they took the notion for this kind of amusement.

"Now let us see who was at this Christmas party that was held in Tooele in 1849. There was John Rowberry, wife and five children; Cyrus Tolman, wife and two children; Judson Tolman, wife and one child; Captain Wright, wife and one boy; Samuel Mecham and wife; Mr. Pravett, wife and five children; and Benjamin and Robert Shelton. So you see there were enough parents and children to fill John Rowberry's house for a good Christmas shake down. The great drawback was music. Not a musical instrument of any kind was owned in the valley, but "Cy" Call was a good whistler and he whistled the tunes while the merry pioneers danced to the music. The dancers had a good time until just before midnight, when the dance broke up and that was the end of the first Christmas party that was held in this city or county."
In 1854 the Judson Tolman family moved back to Session's Settlement, later known as Bountiful, where Sarah Lucretia lived until her death. She was the mother of six sons and eight daughters:
Sarah M., born 28 Mar 1847
Nancy Jane, born 4 Feb 1848
Judson Adonirum, born 25 Feb 1850
Judson Holbrook, born 17 Jul 1851
Jaren, born 18 Apr 1853
Sarah Lucretia, born 7 Apr 1855
Hannah A., born 24 Aug 1856
Lamoni, born 17 Mar 1858
Charlotte, born 7 Dec 1859
Catharine, born 13 Sep 1861
Alice, born 28 Aug 1863
Cyrus, born 13 Feb 1865
Wallace, born 13 Apr 1867
Lucretia, born 14 Feb 1869
Ten of Sarah Lucretia's children were at her bedside when she died February 4th 1869 of jaundice and childbirth [protracated labor]. Baby daughter Lucretia lived but three hours and was buried by her side.
The following is an extract from Joseph Holbrook's diary which he copied from the Deseret News announcing her death.
"Her death spread a gloom over the ward as she was much esteemed by a large circle of friends and acquaintances who knew her as a loving and affectionate mother and faithful saint. Her funeral was attended by a large concourse of sorrowing friends who were addressed by Elders Joseph Holbrook, John Telford and Anson Call who had known the deceased from her infancy. [Note her father was one of the speakers.] Their united testimony was that she was full of integrity and had never been known to swerve from the truth. She died as she lived, sure and certain of a glorious resurrection."

Author of the above biography is unknown, but must have been a grandchild of Sarah Lucretia.
Acknowledgement is given to the following works:
"Biography of Sarah Lucretia Holbrook Tolman Pioneer," Sept 20, 1848, Mormon Manuscripts p. 218-220.
Daughters of Utah Pioneers, Pioneer Women of Faith and Fortitude, 1998, Vol. IV, pp. 3144-3145.